Memtech is a recognised range of products for the food, beverage, dairy, pharmaceutical, biotech, textile and chemical industries.
We supply a range of hygienic stainless steel fittings and components which include:
Stainless Steel Filters – In Line and 90 Degree, 3 & 6 Inch diameter
Clamp Fittings – Full range of clamps, ferrules, connectors and seals.
Manways – Oval, Rectangular, low & High Pressure, swingbolt or clamp closure, Hygienic and Non Hygienic.
Pipe Fittings – DIN, BSP, RJT, IDF, SMS, Bends, Reducers and Tees.
Sprayballs – 180 Degree Up, 180 Degree Down, 360 Degree.
Valves – Butterfly, Non Return, PlugCocks.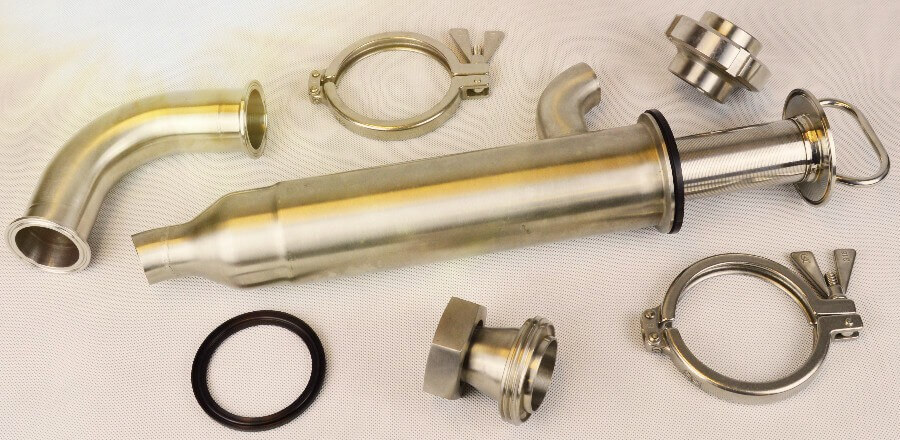 Filters
Memtech's 3″ & 6″ Diameter Filter is available in an Inline or 90 degree style complete with plain ends or a range of fittings which include Triclover, RJT, SMS & BSP covering Inlet & Outlets 1″, 1.5″ & 2″.
INLINE
Easy Installation in existing pipework
Easy removal of filter screen without contaminating flow
Drains easily to bucket for debris removal
90 DEGREE
Simple Solution
Can be combined in duplex or triplex system
Can be mounted horizontally or vertically
To view our information sheet please Click Here
Clamps
Our clamp union range consists of three major designs;
Standard Heavy Duty
Light Duty Single Hinge
High Pressure Clamps
They are designed to provide a smooth and non-contaminating internal pipework joint for hygienic product manufacture.
An extensive range of seals in EPDM, Silicone, Viton® and PTFE ensures that most operating temperatures and materials can be processed.
The Range
SIZE RANGE  ½"- ¾" 1″- 1 ½" 2″ 2 ½" 3″ 4″ 6″
CLAMP SPECIFICATION (Maximum Working Pressure (Bar) at ambient temperature with EPDM seal)
Standard Heavy Duty Clamp* 30 30 30 30 25 25 10
High Pressure Clamp N/A 100 65 65 65 65 N/A
Light Duty-Single Hinge Clamp 10 10 10 10 10 10 N/A
N/A = Not Available
*NB: 8" 12" sizes are also available upon request.
CLAMPS
Designed in accordance with BS4825: Part 3 (1991)
DIN 32 676 (1990), ISO 2852 (1993), 3A Sanitary Standards
Materials traceability to BS EN 10204 3.1.B (DIN 50049 3.1.B)
External finish 1.0 m RA
Internal finish 0.8 m RA to (0.4 and 0.25 m RA optional)
Finish options include electropolishing and glass bead blasting
FITTINGS
Manufactured to BS4825, DIN 32 676 and ISO 2852 standards
Material traceability to BS EN 10204 3.1.B
Standard internal finish of ferrule 0.8 µm RA with all wetted parts in 316L
0.4 µm RA options available
Ferrules for non standard tube sizes available to customer specification
Ferrules in a variety of polymers and exotic materials include Hastelloy-C22
Full range of mesh gaskets available for clamp unions up to 4″
To view our information sheet please Click Here
Manways
Memtech offer a comprehensive and versatile range of access and inspection units comprising of a wide range of configurations to suit most applications within the Process Industries. Special requirements can often be accommodated to order.
FEATURES
Manufactured in 316/316L stainless steel
Inward and outward opening
Hand wheels provide secure and easy 'no tool' opening
Circular, oval and rectangular designs
OPTIONS
EPDM or Silicone seal options (natural rubber and Viton also available)
Extended skirt options available
Finishes to customer specification
Range of ancillary tank components
To view our information sheet please Click Here
Pipe Fittings
The Memtech range of Hygienic Stainless Steel Pipe and Tube Fittings is extensive and encompasses most ranges used in the Process Industries.
Our fittings and tube standards are dimensionally in accordance with BS4825, DIN 11851, DIN 32676, ISO 2852, ASTM A269 and ASTM A270. Stock is generally held in 316 or 316L, but 304 grade stainless steel is available to order.
Our range includes; RJT, SMS, IDF, DIN, SMS, Triclover Clamp and Plain Ended Stainless Steeel Fittings BSP Fittings and adaptors are also available
Full range of seal materials include EPDM, Silicone, Viton, PTFE & Nitrile
To view our information sheet please Click Here
Sprayballs
Memtech offer a range of stainless steel sprayballs that are of a static design with no moving parts. They are an effective way of ensuring that cleaning solutions are sprayed and distributed over the whole internal surface area of tanks, vessels and process equipment.
Our sprayballs are self-draining and self-cleaning thus minimising possible bacterial build-up and blockages during operation.
Their design enables shadow areas adjacent to the inlet connection to be minimised.
To view our information sheet please Click Here
Valves
Memtech offers a wide range of 316/316L stainless steel valves manufactured for use in the Process Industries. Designed for ease of maintenance, our valves are available with connections to suit most customer specifications.
Our range includes; Butterfly Valves, Non-Return Valves, Pressure Relief Valves, Ball Valves, Plugcocks, Septum Point, Sample Valves and In-Line Sightglasses.
To view our information sheet please Click Here
To find out more about how we can help you, please call us on 023 8025 8966, alternatively leave us a message using our contact form