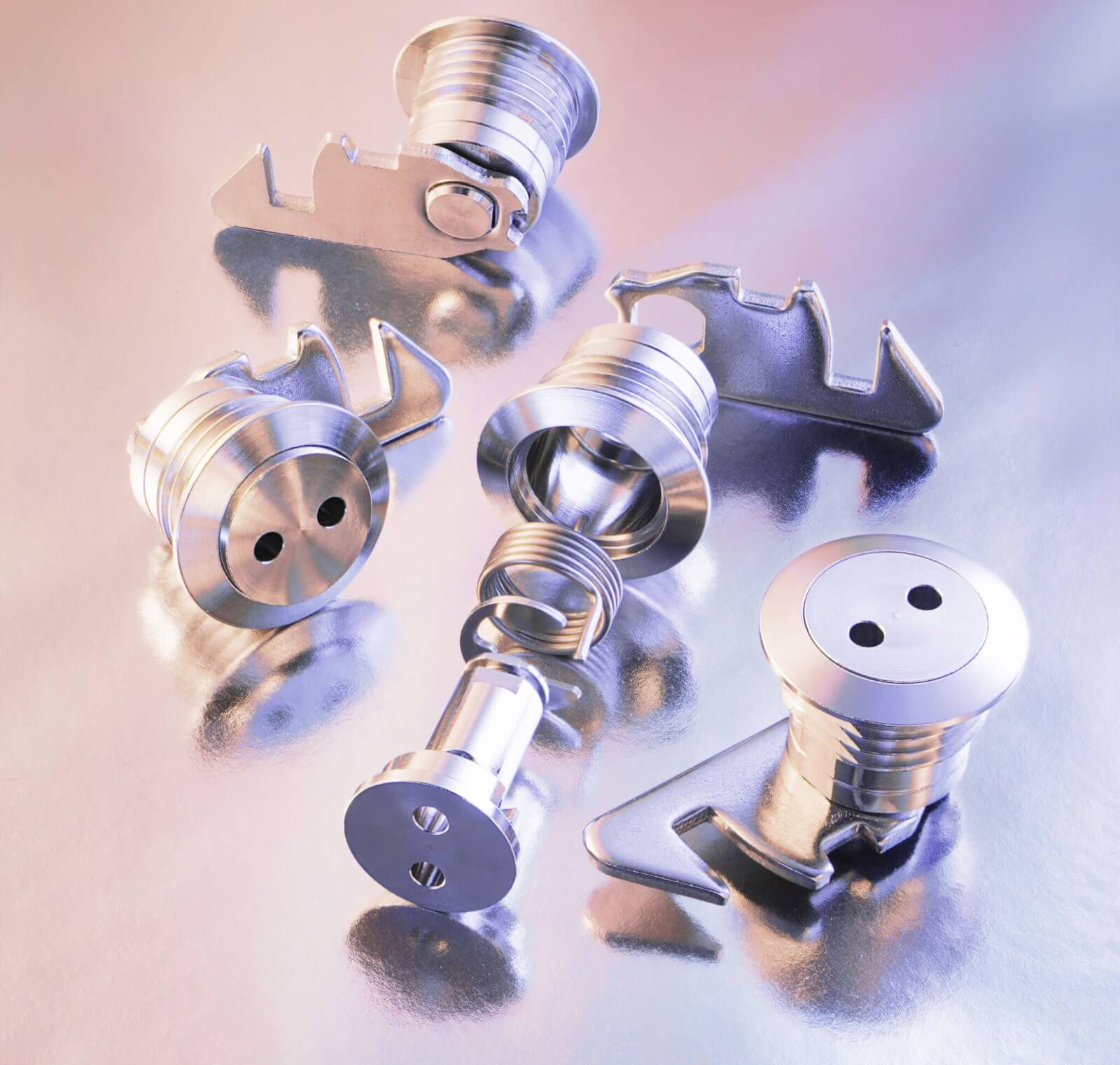 Slam Lock Mechanism Produced For Dudley Industries
Blue Diamond Technologies boosts quality and reduces costs with key component for premier washroom accessories
A new range of premium stainless steel washroom products from Initial Hygiene is enjoying international success. Manufactured by subsidiary Dudley Industries, the products have benefitted from a newly forged partnership with Blue Diamond Technologies – a partnership that has enabled Dudley Industries to improve upon a key component, the lock mechanism – source it more cost-effectively and eliminate volume stocking costs.
Based in Lytham-St-Annes, Lancashire, Dudley Industries supplies washroom equipment to the top five blue chip washroom consumables companies worldwide. It has built its reputation on manufacturing washroom accessories that offer quality and high performance standards, with a short supply chain that ensures efficient delivery. The Reflection range represents a no-compromise approach to product design, with washroom accessories crafted from the finest grade stainless steel and styled to blend discreetly into the end user's environment. The range includes soap dispensers, paper towel dispensers, air fresheners and more. Attractive, robust and easy to clean, the Reflection range enables businesses to deliver uncompromising levels of hygiene to clients, employees and guests alike.
"Every component on the Reflection products is critical, because of the image these hygiene products have to promote,"
says Dudley Industries senior buyer, Stuart Meakin. Those components included the lock mechanism designed to give janitors and cleaners access to the dispenser.
"It's a relatively straightforward mechanism," adds Meakin. "What's important is that it's in keeping with the overall style of each Reflection product."
Initially, Dudley Industries had thought to manufacture the lock in house, but came to the decision that its highly skilled manufacturing workforce could be better deployed in other aspects of the Reflection design.
"Our first thought was simply to take our design and try to find a Far Eastern supplier,"
says Meakin.
"But we had worries about quality, and concerns about having to buy the product in large quantities, representing a significant investment and then having to hold products in stock."
By coincidence, Dudley Industries had recently been contacted by Blue Diamond Technologies. As an engineering services provider with substantial experience in engaging with and sourcing products from Far Eastern suppliers, Blue Diamond felt its expertise would be a good fit with Dudley Industries' potential requirements. When Dudley Industries made the decision to subcontract the manufacture of the Reflection range lock, Blue Diamond was the first port of call.
"We carried out a full quality audit on Blue Diamond to ensure that they came up to the mark in terms of capability, service, reputation and quality, and we liked what we saw,"
says Meakin.
"We were confident that this was a company we could work with."
While a slam lock is a fairly simple mechanism (a key to open, but push shut to re-lock), the demands for style and quality meant that the Dudley Industries design was much more than a simple off-the-shelf catalogue product. Blue Diamond international sales manager, Liam Walsh, says:
"We like to look at projects where we can both add value and reduce costs, while removing the risk for companies of dealing direct with unknown Far Eastern suppliers. To this end, our first task was to reverse engineer the Dudley Industries design to look at the most effective means of manufacture."
As a result of this reverse engineering, Blue Diamond suggested minor refinements to the lock assembly, which were authorised by Dudley Industries after the submission of an initial sample. Blue Diamond also suggested, perhaps counter-intuitively, that the most cost effective route for manufacture was to source different components for the lock from different suppliers, and then assemble it in the UK.
"We have over 45 years experience in working with suppliers from all over the Far East, enabling customers in the UK to take advantage of significant price benefits while mitigating the risk of the product failing to meet the application requirements,"
explains Walsh.
"At the same time, we have extensive in-house engineering capability".
"Looking at the individual specialisms of our suppliers across the Far East, we felt that quality and cost could best be served by sourcing the individual components from four different factories, and assembling the lock ourselves at our factory in Chandlers Ford, Hampshire. Overall the costs are reduced, and we can guarantee quality."
Not only would this lower cost, assure quality and help to give Dudley Industries a competitive edge in design of the Reflection range, it also meant that the company would not have to absorb the cost of ordering and stocking parts in volume.
"We need some 20,000 parts per year, but we don't need them all in one go,"
says Meakin.
"With Blue Diamond, we can place the order, but draw them off and pay for them as we need them. That delivers significant procurement benefits for our business."
Orders for the Reflection range are growing at an increasing rate, with installation in the likes of the Orient Express demonstrating the prestige nature of the product.