Blue Diamond Technologies Limited offer a range of Speciality Lubricants
The dedicated sales personnel within our organisation have over 45 years combined knowledge and experience of involvement with a range of Lubrication products.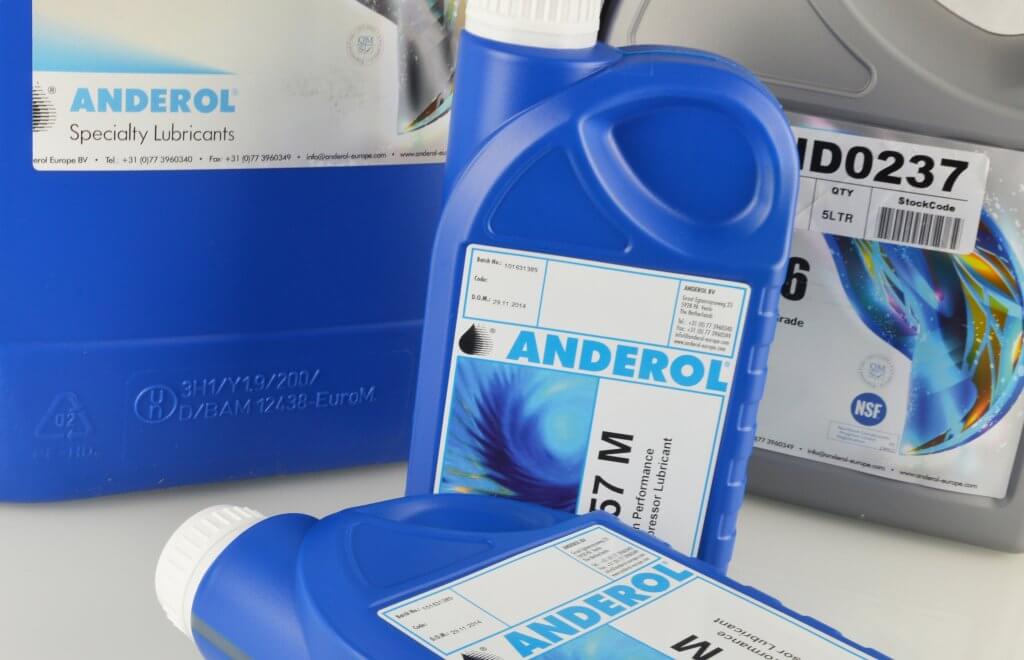 Products are generally available ex stock and can be delivered within 24 hours.
Reliability based on proven experience. Experience gained as pioneers in the development of synthetic lubricants. And we're still leaders. Innovation, a first-class product, outstanding customer service and support, all backed by major company resources help us to maintain this position.
Anderol Synthetic Lubricants are formulated from self-manufactured, high purity organic esters and from high quality synthetic hydrocarbon fluids. Our lubricants are manufactured under rigid, quality controlled conditions and according to the strict regulations laid down in the ISO-9001 quality assurance norm.
Anderol Synthetic Lubricants are available world-wide, their toxicity is of the lowest order and most meet USDA H-1 or H-2 standards for food and pharmaceutical applications.
Created specifically for individual applications, these lubricants are the result of long-term development partnerships with leading manufacturers of industrial equipment. Routine and severe applications in numerous industries – including military – have proven their performance capabilities, versatility and quality.
Anderol Products Include:
555 is an ISO 100 synthetic diester based compressor lubricant specifically designed to provide long-term lubrication in air and process gas compressors. ANDEROL 555 meets or exceeds the following specifications:
DIN 51506 –VDL
ISO 6743-3 L- DVC
FG XL-100 is a next generation synthetic compressor oil based on a mixture of specially selected non-toxic synthetic polyalphaolefins combined with a high performance additive technology. This advanced formulation provides additional detergency properties preventing lacquer and varnish formation. ANDEROL FG XL 100 meets the lubrication requirements of air compressors running in food processing plants. ANDEROL FG XL-100 meets or exceeds the following specifications:
DIN 51506
NSF/H1 registered
FG XL-46 is a next generation synthetic compressor oil based on a mixture of specially selected non-toxic synthetic polyalphaolefins combined with a high performance additive technology. This advanced formulation provides additional detergency properties preventing lacquer and varnish formation. Anderol FG XL 46 meets the lubrication requirements of air compressors running in food processing plants. ANDEROL FG XL-46 meets or exceeds the following specifications:
DIN 51506
NSF/H1 registered
755 is an ISO 150 synthetic diester based compressor lubricant specifically designed to provide long-term lubrication in air and process gas compressors. ANDEROL 755 meets or exceeds the following specifications:
3057M is a PAO/ester based compressor lubricant that was designed to provide long-term lubrication of both rotary vane and oil-flooded screw compressors. Anderol 3000 range is available in the grades ISO VG 46, 57, 68, 100 and 150. ANDEROL 3057M meets or exceeds the following specifications:
Applications Include:
Compressors & Vacuum Pumps
Food Grade
Bearings, Gears & Chains
Greases
Automotive & Transmission
Refrigeration Systems
Hydraulic Systems
ASTM Service Fluid
To find out more about how we can help you, please call us on 023 8025 8966, alternatively leave us a message using our contact form