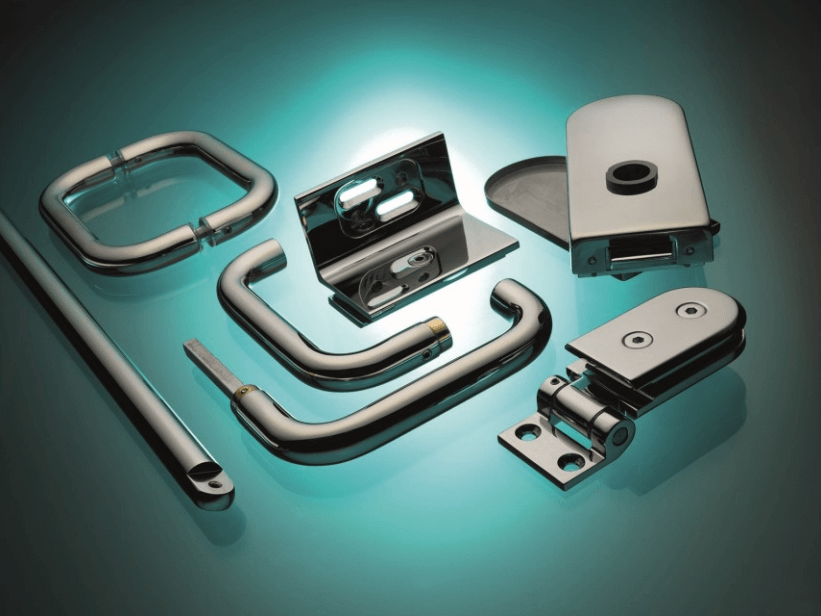 Glass is a special material. It has a unique upmarket, quality feel and is becoming increasingly popular for use with top quality furniture and bathroom fittings such as office partitions and shower doors. Recognising this trend, Blue Diamond has expanded its scope of supply to include high quality door handles, hinges and latch systems for glass in a range of finishes including polished, linished and brushed.
Although glass looks good, especially when combined with chrome or polished alloy fittings, fixings in glass are notoriously difficult to engineer and manufacture. Glass is a fragile material and drilling holes in it is both difficult and expensive. Designs are restricted by Standards that dictate how close a hole can come to the edge of a sheet of glass. This varies according to the type and thickness of the glass – limiting the designers' scope.
Blue Diamond can design and manufacture hinges and handles for individual applications to provide a perfect fit. Accuracy and repeatability are vital and using a custom design ensures that the overall look and feel of the product is not compromised by an 'off the shelf' component. Glass is heavy and components have to be strong enough to carry high loads while at the same time avoiding problems associated with glass panels acting as sound amplifiers.
An example of Blue Diamond's design and engineering skills is in the supply of glass door handles, hinges and latch systems for a leading supplier to the new build industry. When supplies of fittings for office partitions and door products started to falter, fast action was required to find an alternative supplier. The engineers and designers at Blue Diamond worked closely with the customer to develop and agree a new design – that met all the mechanical and aesthetic requirements – as well as durability.
The complex designs required a range of cast and pressed components, springs, metal and plastic parts, some of which had to be plated or polished. Based on their experience designing similar components, Blue Diamond's engineers were able to improve the assemblies by enhancing their appearance, reducing cost and increasing durability.
All drawings were originated by Blue Diamond using their advanced CAD-based system. Prototypes were sourced from approved suppliers in low cost base countries and following evaluation of the design and testing of the samples, the new handles, hinges and latch systems were accepted immediately for volume production.
Blue Diamond, based in Southampton, is well established as a quality supplier of all types of engineering components including cast and turned parts, plastic mouldings, bearings, seals and sub assemblies. The company designs and prepares engineering drawings, including material specifications, and manages the manufacture of prototypes and bulk supplies as well as providing inspection, testing, stockholding and sourcing from low cost manufacturers outside the UK.